As we approach the summer season, it is time to take a closer look at the latest pool trends. Whether you are building a new pool or renovating your existing one, it is always a good idea to stay on top of the latest trends. In this article, we will cover the top 10 pool trends that are taking over this year.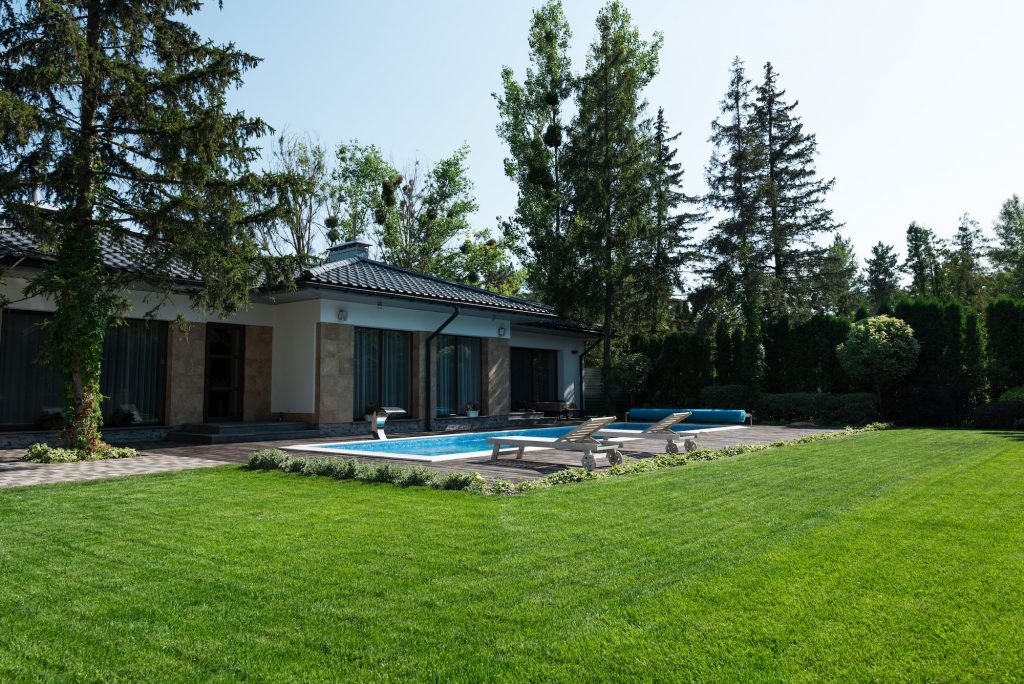 1. Customized Tanning Ledges
A customized tanning ledge is the perfect place to relax and soak up the sun. These ledges are also known as Baja shelves or sun shelves and can be customized with tanning chairs and umbrellas [1]. A customized tanning ledge adds a touch of luxury to your pool and is perfect for both relaxation and entertainment.
2. Slim and Extended Pool Proportions
Slim and extended pool proportions are becoming increasingly popular. Instead of the standard 20-by-40-foot pool, slim and extended pools with proportions as narrow as 12 feet wide are gaining traction. These pools have a sleek and modern look, making them a popular choice for contemporary homes [2].
3. Simplified Pool Designs
Inclinations towards simplified pool designs have led to a reduction in oversized pools. Fiberglass pools are increasingly becoming a popular option for their simple, small, and practical design and shape [3].
4. Salt Water Pools
Saltwater pools are one of the latest pool trends in Connecticut and New York. They provide several health benefits, including being easier on the skin and eyes, as well as offering smoother water. Saltwater pools are equipped with a salt chlorine generator that uses diluted sodium chloride to manufacture chlorine gas at the filter system [4].
5. Niche Pool Designs
In 2022, traditional pool designs like rectangular pools or those with spa jets remain popular. However, unique pool designs such as infinity or lap pools and those with unique features are making a comeback [5].
6. Natural-Looking Pools
Natural-looking pools are gaining popularity, with more people opting for pools that blend in with their surroundings. These pools feature rocks, waterfalls, and plants that give them a natural and organic feel. They are perfect for those who love nature and want to incorporate it into their pool design [6].
7. Patterned Patchwork
Patterned patchwork tiles have become one of the most fun pool design trends. These tiles come in turquoise, patterned gray, and rich purple-blue, which add to any tropical pool aesthetic. Glossy glass tiles are more eccentric than classic solid colors but are worth it for those with a keen eye for design [7].
8. Sustainable Materials
Sustainable materials are becoming increasingly popular in pool design. Environmentally friendly materials such as recycled glass, natural stone, and wood are being used to create stunning and eco-friendly pool designs. These materials add a touch of luxury and are an excellent choice for those who want to create a sustainable and eco-friendly pool environment.
9. In-Pool Seating
Creating in-pool seating has become one of the most popular outdoor living trends. Incorporating built-in benches, ledges, chaise lounges, or even in-pool stools into the pool itself adds functionality and comfort to the pool area. In-pool seating is perfect for those who love to entertain guests and relax in the water at the same time [9].
10. Safety Features
Safety features are an essential aspect of any pool design. Families are increasingly investing in safety covers, fences, and alarms to protect their children from accessing the pool without supervision. Additionally, pool depth preferences have changed over the years, with more people opting for shallower pools without diving boards to increase safety [10].
In conclusion, these top 10 pool trends are taking over this year, and they cater to a variety of pool styles and preferences. Whether you are looking for a luxurious tanning ledge or a natural-looking pool, there is a trend for everyone. It is crucial to stay up-to-date with the latest pool trends to ensure that your pool remains a stylish and functional addition to your home.